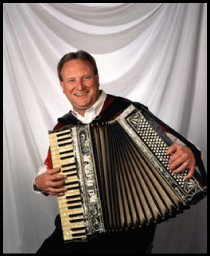 Bill is a popular strolling accordionist and band leader in the Midwest area frequently performing at Gasthof zur Gemutlichkeit (Minneapolis, MN) Bayrischer Hof Bavarian Restaurant (Montrose, MN), Winzer Stube German Restaurant (Hudson, Wisconsin), Hessen Haus (Des Moines, Iowa) and various other public & private events and parties including the Minnesota State Fair.

The Bill Koncar Band plays a variety of music including polkas, waltzes, fox trots, swing, Latin rhythms (including rhumbas, cha chas, tangos & sambas), and classic rock & pop tunes.



Gasthof zur Gemutlichkeit
will be featured on
Travel Channel's Man vs. Food
Airing Wednesday, March 25th, 2009
at 9 PM Central Time!

Check Bill's Schedule
to see dates & times that he performs at
Gasthof zur Gemutlichkeit!
BILL KONCAR
is featured on
WCCO News Report!
Tapes and CD's from both our recordings are still available.
"The Best Things in Life Are Free"
or
"It's Happy Polka Time"
$15.00 for a CD
or
$12.00 for a TAPE
postage included!
To order:
Call 763-427-7744
Or e-mail:
bill@billkoncar.com


Each Sample is about 30 seconds